Have you been dying to read–and review–my short story "Miss Evelyn Nesbit Presents"?
Good News! I have a few COMPLIMENTARY REVIEW COPIES of ME TOO SHORT STORIES: AN ANTHOLOGY, which I'll be glad to snailmail to the first five people who send me a message through my contact form on this website.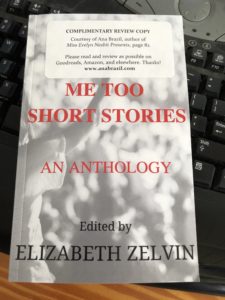 You'll have to be in the Continental US and I'll have to ship Book Rate, but I can get you a copy of this crime fiction anthology really soon.
No reviews are required; but they are always appreciated!
Contact me by December 15th and you *may* receive a complimentary copy of short stories by Rona Bell, Julia Buckley, Diana Catt, Dayle A. Dermatis, Eve Fisher, Gin Gannon, C.C. Guthrie, Lynn Hesse, V.S. Kemanis, Madeline McEwen (Hi Maddy!),  Julia Pomeroy, Ann Rawson, Carole Sojka, and editor Elizabeth Zelvin.