It's Holiday Season! Finally! Let the holiday baking (and deep-frying at my house) begin!
The Paper Lantern Writers–a collective of historical fiction writers–is excited to share HISTORICAL HOLIDAY DESSERT RECIPES, a collection of recipes that our characters might have eaten in the past, as well as recipes that we are baking now.
Download HISTORICAL HOLIDAY DESSERT RECIPES at PaperLanternWriters/store today! The .pdf is free, but you will need to enter your name/address.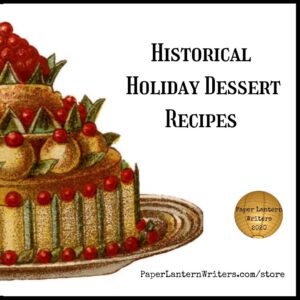 Sweet wishes for a Happy Holiday season!