Not for nothing (another way of saying "My Work-in-Progress takes place in 1919 San Francisco", I've done a lot of research about WWI-ish American women's lingerie.
To keep my research together, I'm collecting together some of these newspaper advertisements today.
First, I like to know how much everything costs. Don't you?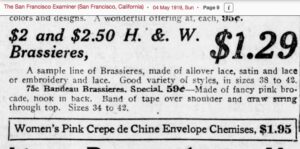 And then, I like to know the fabric my heroine is wearing under her clothes. I can tell you right now that in this story, my heroine's skin is being caressed by that silky, sexy, and definitely superior, Crepe de Chine.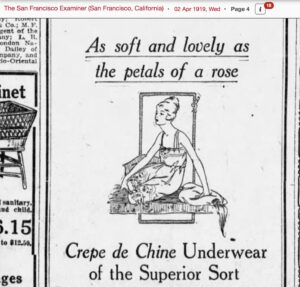 And I like to make sure that my heroine has some variety. Because she's not going to be in her step-ins all day.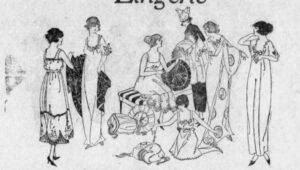 But finally, here's my favorite find: PARIS BEAUTIES PAINT DIMPLES ON KNEES FOR NEW "BATHING" SEASON.
PAINTED DIMPLES, because, WHY NOT?