Just in case you're still looking for that perfect dish for your Thanksgiving table…this week, I'm going to be posting some of my favorite turn-of-the-century recipes from New Orleans!
First up, your appetizer–Cream of Asparagus Soup.
Here's the recipe directly from "The Picayune's Creole Cook Book":
And here's a rearranged version:
Cream of Asparagus Soup.
Creme d'Asperges.
1 Large Bunch of Asparagus.
1 Tablespoonful of Butter.
1 Quart of Milk.
3 Tablespoonfuls of Rich Cream.
2 Even Tablespoonfuls of Flour or Corn Starch.
Salt and Pepper to Taste.
Wash the Asparagus, tie it in a bunch and put in a saucepan of boiling water.
Let it boil gently for about three-quarters of an hour, or until perfectly tender.
Take it from the water, cut off the tips or points and put them aside until wanted.
Put the milk on to boil in a farina boiler.
Press the Asparagus stalks through a colander, and add them to the milk.
Rub the butter and cornstarch or flour together until perfectly smooth, and add to the boiling milk, stirring constantly till it thickens.
Now add the Asparagus tops, salt and pepper.
Serve, without Croutons, as the Asparagus tips form a beautiful garnish.
Ana's Notes:
STEP FOUR requires a "farina boiler", which I think is the same as a "farina kettle" which looks like this: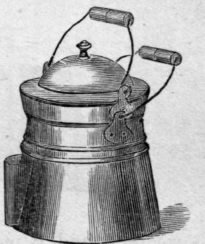 Although STEP SIX might sound like you're making a roux, a roux is always made with exactly equal parts of butter and flour.