As you might know, I'm a big fan of postcards. The older the better!
Since I can't go on my much-wished-for-first-vacation-to-Copenhagen this year, I took a short, refreshing visual side-trip by browsing through my Danish grandmother's collection of postcards.
Dating from the early 1900's, these postcards feature beautiful photographs of Copenhagen (København) and other locales around the world. I love these postcards for the images, but also because they show that Grandmother Anna had many, many friends, which suggests to me that she had a lovely life.
I also love this collection because now I know exactly where my grandmother lived in Copenhagen before she immigrated to Canada. So when I finally get to Denmark, I can visit the building. Score! 
Today on Paper Lantern Writers I'm sharing some of Grandmother Anna's Copenhagen postcards. And today on this blog I'm sharing some of her beyond-Copenhagen postcards. I hope that you enjoy them as much as I do.
We'll start our trip by train, leaving from the Danish town of Roskilde. This postcard is dated June 21 1908.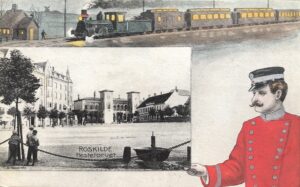 Our First Stop is Skodsborg. This postcard date unreadable.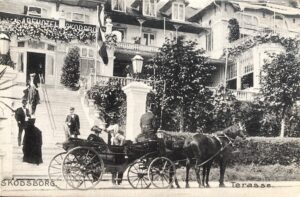 Second Stop is Bornholm. This postcard is dated December 7, 1902.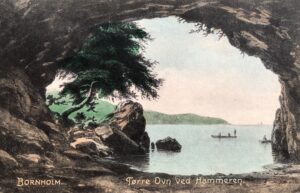 Third Stop is Korsor. This postcard is dated February 12, 1912.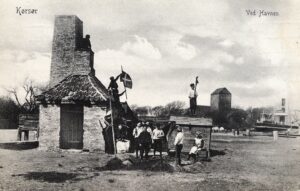 Our Last Stop in Denmark is Egeskov Castle. This postcard date is October 23, 1906.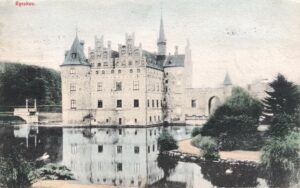 Fifth Stop is a forest somewhere in Germany. I just love this fence! This postcard date is September 19, 1909.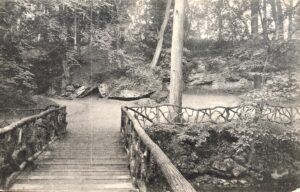 Sixth Stop is the Elisseeff Emporium in St. Petersbourg, Russia. This postcard date might be October 29, 1907.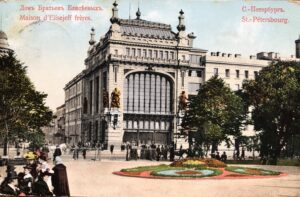 Seventh Stop is way across the Atlantic–The State Fair Grounds in Minneapolis, Minnesota, a town & state that attracted a lot of Danish emigrants. This postcard date is April 27, 1916.
Our Final Stop is the City by the Bay–my own San Francisco, California! This postcard date is May 24, 1910, just four years after the big earthquake.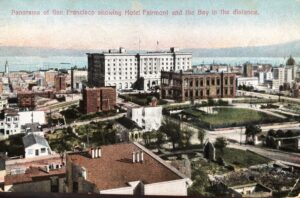 These are just some of the hundreds of postcards sent to my grandmother. She treasured these postcards her entire life, bringing them across the Atlantic when she immigrated to North America, and I treasure them now.
Although we can text to each other in seconds, sending a friend a meaningful image of our travels might keep us connected even longer. Postcards, anyone?
About Ana:
Ana Brazil has a master's degree in American History and writes historical crime fiction celebrating bodacious American heroines. She is a founding member of the Paper Lantern Writers Collective of historical fiction writers, winner of the IBPA 2018 GOLD for Historical Fiction, and hangs her hat at www.anabrazil.com.