I just got my "Ana's Year in Books" email from Goodreads and I only read 4,413 pages across 14 books.
14 books over 12 months! What a slouch!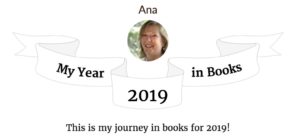 I know I read more than 14 books this year; I just didn't report them on Goodreads. I like this Goodreads feature–especially since we're going to be discussing our year-end favorite books later this month on Paper Lantern Writers–but I'm going to have to get better about reporting my reads.
ALSO…it would be great if Goodreads could tell me how many pages I've written during 2019. And I'm sure it's more than 4,413!